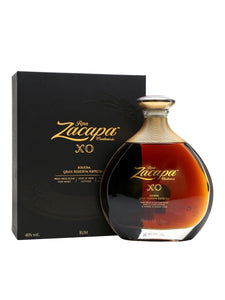 RON ZACAPA CENTENARIO XO 75cl (MHDM-FF)
Tax included.
Quantity must be 1 or more
Zacapa XO is a unique balance of complex aromas and flavors resulting from the exclusive blend of reserve rums. We hand select rums aged between 10 and 25 years in the "Sistema Solera." Older and younger rums are then blended as they age in a sequence of barrels that previously stored robust American whiskeys, delicate Sherries, fine Pedro Ximénez wines and finished in French oak casks which previously aged Cognac. Zacapa XO is best enjoyed neat or on the rocks and pairs beautifully with dark chocolate and desserts.