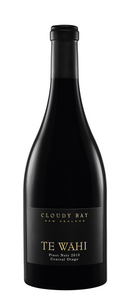 CLOUDY BAY TE WAHI 2019 75CL (MHDM-FF)
Tax included.
Quantity must be 1 or more
This Sauvignon Blanc is made by natural fermentation and long maturation in barrique. The seductive taste has flavors of brure and caramel with fully ripen citrus and tropical fruits. "Te Wahi" is a Maori saying meaning "the place". We believe that great Pinot Noir speaks of its origin, and "Te Wahi" is our encapsulation of the extremely southerly and continental terroir that is Central Otago. The palate is decadently sweet fruited and richly textured. The density of the wine is counter balanced by bright acidity and supple tannins. The finish is long, focused and complex.