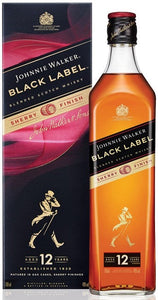 JOHNNIE WALKER BLACK 12Y SHERRY FINISH 70CL (MHDM-CS)
Tax included.
Quantity must be 1 or more
The iconic Black label brings an innovative Asia-exclusive Edition with a fresh twist on a timeless classic. The limited edition Johnnie Walker Black Label Sherry combines the outstanding notes of Black Label whisky with the rich, fruity flavours of dried plum and fig, with aromatic vanilla for a distinct finish. Matured in sherry casks to give it its signature flavour, it is then elegantly packaged into a sophisticated bottle for a drink that will make any occasion special.