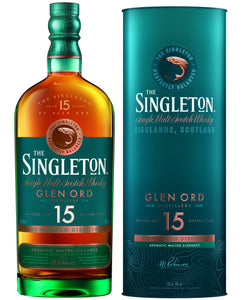 SINGLETON GLEN ORD 15Y 70cl (MHDM-FF)
Tax included.
Quantity must be 1 or more
Distilled in the Dufftown distillery of Speyside, where fine single malts have been produced since 1896, exceptional care is taken at every stage of producing The Singleton to create the best taste possible Longer fermentation and slower distillation than many competitors ensures exceptional smoothness and depth of flavour.The liquid is then matured in a combination of American and European oak casks (with only the finest casks hand selected for a richer taste) to ensure extra flavour and perfect balance.The unique bottle shape of The Singleton of Dufftown is inspired by a traditional hipflask while the colour of the glass reflects the blue flint glass used at the turn of the previous century. A classic 15 year old Speyside malt originally released for the travel retail market. Singleton of Dufftown is aged in a mix of European and American oak casks and it's sweet and spicy.